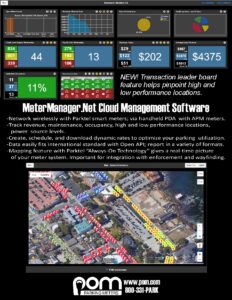 Monitor and manage a database of POM smart and conventional parking meters.
Create, edit, and download simple or complex, dynamic rates to specified meters in real time or at a scheduled time.
Get maintenance alerts.
Reports available based on real time log data and on collections audit records; export in spreadsheet formats or pdf.
Populate your own satellite map of meters based on GPS location for each meter, then see meter status at any point of the day; backend data available for integration with mobile apps and enforcement.
NEW, AS DEMONSTRATED AT IPMI2022-NEW ORLEANS, TRANSACTION LEADER BOARD ENHANCEMENT.