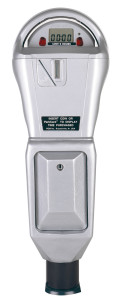 APM-E shown with options: high-visibility rotary enforcement signal with red-green-yellow modes, visible from both sides of the meter up to 80 feet away for easy drive-by enforcement; iron Tamperproof vault, holds $65 in quarters; card slot and reader for prepaid smart cards.
Mechanism also fits into other brand meter housings without modification.
Infrared communications using a handheld pda; upload data to MeterManager.Net cloud software.
Accept coins, branded prepaid smart cards (latter which can be refunded with leftover time, resetting the meter to 00:00 for the next user), tokens, and can be equipped with a free-time button.
Standard 6V AA alkaline battery pack costs less than 9V lithium, and lasts much longer (some cities achieve 4-5 years with this battery pack).
Plug and play components (including the displays) and no-moving-parts coin chute make this meter easy to maintain and repair.
SmartLock option adds extra level of access security to standard locks and keys.
ISO 9001:2015, Made in USA, 100% Woman-Owned Business
Now available on OMNIA (formerly NCPA) National Contract, and through Pennsylvania COSTARS.