Coin Collection Systems
Variety to Meet Your Needs
For small meter systems with tight budgets, we have push carts and carry cans with funnels for dumping open-top coin boxes. However, POM understands the importance of security in your meter collection system. That is why we designed our entire line of collection components to offer the best possible protection from pilferage. Our collection systems are fully "sealed", eliminating access to the money collected. It is your assurance that all meter revenue will make it to the bank.
Base model coin carts include solid rubber wheels (photo bottom right) and front stop (shown on both photos); high-flotation fully pneumatic ball bearing wheels, and swivel caster are optional and may be added at an additional charge.
Documentation
Download our Coin Cart and Collection Head Schematics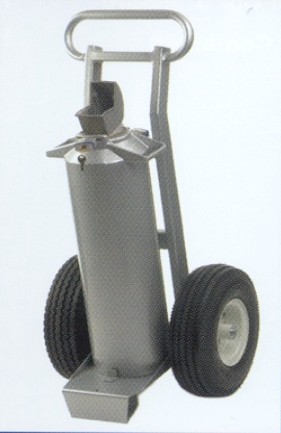 High Security Safeguard System
For Current and Former POM or Rockwell Models
POM's Safeguard system features die-cast metal coin boxes. opened by a unique rack-type linear key designed and produced only be POM. Receptacle is a cylindrical canister, and the cart shown has the pneumatic tire option; a carry size canister with straps is also available.
High Security Universal System
For Current POM and for Other Brand Meters
POM's alternate sealed system features unbreakable round cycolac plastic coin box cylinders available in standard or expanded capacity. These coin boxes can be produced with a choice of two different styles of locks. Receptacles available in large standard size cart or narrow gauge styles; carry canister with shoulder strap available as well. There is also a coin box of this style to fit the Magnum vault and holds $118 in quarters.